The Riverhead Backyard ReLaps Ultra
2nd April 2022
Who will be New Zealands' Last Person Standing?
Complete one 6.7km lap within an hour, restart again on the hour….continue…until only one person is left to complete a lap.
2022 Event Update – COVID/OMICRON
Well – here we are again! The 2022 Riverhead ReLaps Backyard Ultra is planned for 2 April 2022 and we thank you for entering. However, we are, as you know, at the mercy of Omicron. BUT….good news!
We to let you know our thinking at this stage. We are continuing to plan that the event is happening in Traffic Light level/zone/alert Red, but with probably only the Ultra event allowed and with limited support. This would keep us under 100 people and allow at least the ultra to happen. Not ideal, because the relay is so much fun and really adds to the weekend, but this looks like our plan.
At this stage we are looking to not allow any personal support crew to keep the numbers down and instead have a "Gang of Supporters" who communally offer some support to all the runners.
We have sold out of our 77 person limit and are now taking peoples names for a waitlist. So if you are no longer able to attend due to injury or whatever, please let us know so we can withdraw you and refund your entry as per the refund policy, which you agreed to when entering.
While we're taking about policy – please make sure you have a read of our COVID policy (on the website). Most importantly, in order to have any event at all, we require everyone to be fully vaccinated and you'll be asked to provide evidence of this (Vaccine Pass) at the event.
For those that have entered the relay or solo then please hold fire in case anything changes and we can proceed with those events. At this stage we haven't been promoting the event (for obvious reasons), so only have 2 solo runners and 3 relay teams entered. We'll do refunds for you later, as if they happened at this point in time using the COVID refund policy (80% refund or credit for next year).
We can't wait to to see you there! Lot of fingers crossed…..Get ready to "Keep on Lapsin!"
That's all for now. We'll keep you updated with info as we invent it, in this fast changing environment
Summary of the Ultra
Starting at 9am Saturday 2nd April 2022

Runners will start a 6.71 km (4.17 mile) on the hour, every hour

Runners must finish each lap within 1 hour

The next lap starts on the hour every hour after that

This continues until only one runner can complete the lap within the 1 hour time limit

Runners are called into the starting corral at 2 minutes to the hour

Any runner not in the starting corral for any lap is not eligible to continue and is recorded as DNF (did not finish)

Any runner who fails to finish a lap is recorded as DNF (did not finish)
How long is this likely to go on?
Past Riverhead Backyard ReLaps Ultra Events have been won by:
2021 Chris Bisley did 38 laps (255km)
2019 Katie Wright did 30 laps (201km)
Internationally the record is 85 laps (570km) by Harvey Lewis from USA at the 2021 Individual World Backyard Ultra Championships.
Event Director of the United States event and founder of this type of event Laz Lake is renowned for dreaming up events to test people's limits.  During the US event Laz posts updates on the Facebook page throughout the event and he sums it all up as he wrote during the final hours in a past event…
hour 66: and then there were two
with the passing of gavin woody,
it all comes down to johan steene and courtney dauwalter
one will get everything
and one will get nothing.
life is not fair in big's backyard.
but you know the deal when you sign up.
Short press articles (including some video coverage) of the US Big's Backyard event:
The Road to Big's (the World Champs of Backyard Ultra)
With the popularity of the backyard format there are now hundreds of backyard ultra events now.  Because of this, there is no longer any golden tickets directly into the Big Dog's Backyard which is considered the World Champs of this format event.  Instead there is a pathway as detailed on the Backyard Ultra Website here, but recreated below:
We run in the backyard for many different reasons. We run because it is fun. We run to socialize with our friends (old and new). We run to go further than we have ever gone before….
But, for many of us, we run because we want to eventually go to Big Dog's Backyard, and pit ourselves against the best in the world. And why should we not harbor such ambitions? In the backyard, anyone can win. One of the fundamental imperatives for any sport is to leave the outcome in the hands of the athlete. And so we want it to be in the backyard. Your road to Big's is below. Along the way is the opportunity to represent your country on a national team, to compete for a national championship… and, of course, a clear path to reach the world championships in Big Dog's Backyard.
In summary, you will find in the Brackets (rounds) for your country a list of Bronze and Silver Ticket events. The winners of the Silver Ticket events will have a place on the national team. New Zealand does not have any bronze events because we only have 3 silver events s there is no need.
In addition to the places on the team secured by winning a Silver Ticket event, there will be places for At-Large additions to the team.  As an example, the 15 man US team will have 6 places determined by the winners of 6 Silver Ticket events. The other 9 places will be determined by the top results on the At-Large list. A good result in any event you run during the qualifying period (which began August 16, 2020 and ends August 15 2022) can place you on that list. The top 9 performances, outside the winners of the 6 Silver Tickets, will earn those runners a place on the team.
The World Team Championships will start on October 15, 2022.
You will be both representing your country as a member of the team (ALL members are scoring members) and competing for the individual National Championship.  The Team Championships were first held in 2020, with Belgium winning, the USA second, and Mexico third.
World Individual Championships
The top 50 winners of the national championships will secure berths at the World Individual Championships to be held at Big Dog's Backyard starting October 15, 2023. In addition to those champions, there will be an additional 25 runners selected from the At-Large list… the top performances of the previous 2 year qualifying period (August 16, 2021 to August 15, 2023).
COVID POLICY
Please refer to the Lactic Turkey Events Covid-19 policy here 
As of 23 January 2022 we have moved to the Red Traffic Light which complicates things ☹, due to the 100 person limit.  We will let things settle a little and make a call in a couple of weeks on if we can hold the event.  Hopefully in this time we will learn how long we're likely to be in Red and what we need to do.  It is possible we would restrict the event just to the Ultra runners in order to stay under the 100 person limit.
LOCATION
The event is in Riverhead Forest. The event centre is just off Ararimu Valley Rd.  Take Old North Road through the western side of the Riverhead Forest and turn down Ararimu Valley Road which is on your right.
Please park as directed.
LOCATION
The event is in Riverhead Forest. The event centre is just off Ararimu Valley Rd.  Take Old North Road through the western side of the Riverhead Forest and turn down Ararimu Valley Road which is on your right.
Please park as directed.
TIMETABLE
If you're looking at this on a mobile device you might need to swipe left to see the details of the table
Backyard Ultra

8 Hour Relay

12 Hour Relay

24 Hour Relay

Registration at the venue

& Tent set-up

 From 6:30am

Saturday 2nd April

From 8am

Saturday 2nd April

From 8am

Saturday 2nd April

From 8am

Saturday 2nd April

Race Briefing

8:40am

9:45am

9:45am

9:45am

Start

9am

10am

10am

10am

Finish

when the last person is standing and completes a lap (Sunday or Monday maybe?)

6pm

Saturday 2nd April

10pm

Saturday 2nd April

9am

(because of daylight savings)

Sunday 3rd April
ONCE FINISHED
Once you've finished your event you're welcome to stay at the venue and in your tent site, cheering on the other ultra and/or relay runners.  In fact, we encourage it!
THE COURSE
The course will be a 6.7km lap through a mix of commercial pine forest and native bush.
The course has around 160m vertical gain per lap, but unlike past years its earlier and mainly all in one go!
Lap times start and finish under the start/finish gantry.
Click on the image below to go to the Strava segment of the 2021 course – this was tweaked a little from the 2019 & 2020 courses to make it smoother, take out some of the more gnarly quad busting downhills.
Alternatively look at the course in more detail and download a GPX file…[here]
The same loop will be used for the day and night!!
Runners must finish the lap within 1 hour

The next lap starts on the hour every hour after that (signaled by the bell)

Participants must be in the starting corral at the bell

Warning will be given at 3, 2, and 1 minutes prior to start

Runners may not leave the course until each loop is completed  (once the horn goes you must complete a loop before any support is given/taken)

No non-competitors on the course (including eliminated runners).

You are not to receive support or pacing from relay runners – gear, food or liquids.  All that is allowed is a quick verbal encouragement as they pass you or you pass them.  Both yourself and the relay runners will be disqualified if this rule is broken.

No personal aid/support during a lap (the one aid/support location is the event base)

No artificial aids (including poles!).  Music is okay but we ask that you're aware of other runners so as not to hold people up, especially once the relay starts because they fly past the Ultra runners.

Slower runners – please allow faster runners to pass

The winner is the last person to complete a lap when all others have given up

All others are technically DNF

If no runner can complete one more lap than anyone else, there is no winner

Please report to the timing area when you decide you can no longer go on

No cats, dogs or other domesticated animals allowed on the course with runners.
COMPULSORY GEAR
Because of the lap nature of the course there is no compulsory gear required.
SUPPORT CREW
We recommend the Riverhead Backyard ReLaps Ultra runners have support crew. This is limited to a maximum of 2 people at a time (based at the runners support tent).  We're happy to relax this a little after 12 hours and the numbers are reduced and there is more space.
General supporters can cheer/encourage/kick up the arse at the finish line etc but can not join the runner in their tent. This is to prevent overcrowding on the course around the tents.
SPECTATORS
We welcome spectators to come and have a look and support all the runners, however this is at the event centre only.  No spectators are allowed out in the forest, as they may be deemed support for a runner and may result in that runners disqualification.
Please be aware of the limited resources we have had to bring on site, e.g. toilets and water which participants have helped pay for so, they should have priority.
No dogs are allowed in the forest or at the event centre please.
ON COURSE REFRESHMENTS
There will be no aid stations or any water provided out on the course – you're on your own, in this regards, when you're out on the lap…its only 6.7km!
There will be water available for participants at the event base.  We are cup free so please bring your own vessel for holding water.
TENT SITES
Each individual will be allocated a 3m x 4m site within the event base.  No vehicles will be allowed on the tent sites.
Individuals doing the Riverhead Backyard ReLaps Ultra will be given sites closer to the finish line.
Team tent sites do not have power or water.
$20 – Trucker 5-panel Mesh Caps
We wear these caps ourselves and no matter if its a formal cap for wearing out and about or your running cap, these things look good and are quality.
$30 – Commemorative Event Tee (not a running tee but one you wear out and about)
Making use of the fancy event logo these shirts can be worn with pride!
WOMENS MAPLE TEE – 4001
Regular fit, Crew neck, Mid weight, 180 GSM, 28-singles
100% combed cotton (marles 15% polyester)
Neck ribbing, side seamed, shoulder to shoulder tape, double needle hems, preshrunk to minimise shrinkage
MENS STAPLE TEE – 5001
Regular fit, Crew neck, Mid weight, 180 GSM, 28-singles
100% combed cotton (marles 15% polyester)
Neck ribbing, side seamed, shoulder to shoulder tape, double needle hems, preshrunk to minimise shrinkage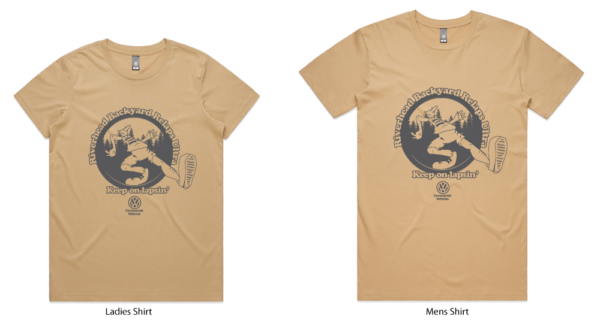 EVENT CENTRE REFRESHMENTS
The following food and drink vendors will be onsite at various times throughout the weekend.  Probably best to bring cash because mobile reception is patchy, so EFTPOS may not work.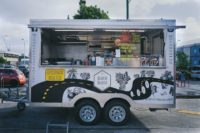 NomNom Food Trailer
Delicious Asian inspired bowls direct from friendly Riverhead Locals.
The most popular dishes are the lemongrass fried chicken and a sticky pork belly that just melts in the mouth.
Available Saturday lunchtime till around 4pm
Riverhead Scouts
The local scout group will be doing a BBQ on Saturday night from about 5pm (menu to be confirmed). They will then return at 7am the next morning, on Sunday to do egg and bacon butties!
Pirate Coffee – A Brewed Awakening
The peeps from Pirate Coffee will be there selling hot drinks.
The lovely peeps from Realign Massage & Neuromuscular Therapy will be at the venue offering massage for $20 for 15 minutes.  There will be 2 therapists per shift, Friday 1pm-5pm & 5pm-9pm. Saturday 9am-1pm; 1pm-5pm and maybe depending on demand  a late shift of 5pm-9pm.
RULES, T&C's, PARTICIPANT WAIVER
The following are the rules of the event and you will sign your agreement to these during the entry process.
Event in the following waiver declaration is known as "Riverhead Backyard ReLaps Ultra & Relay".
I agree to comply with the rules, regulations and event instructions of the Event.
At all times competitors must obey the instructions of Race Officials and Police Officers and beware of vehicular transport. Any competitor who fails to obey the instructions of Race officials or the Police will be removed from the Event and disqualified. The race director has the discretion to disqualify competitors.
No competitor may use any banned substances with the intent to improve their performance, eliminate the sense of fatigue or for any other purpose. Any competitor serving a ban for banned substances in another sport is not permitted to enter.  The Event Organisers may test any athlete for the use of a prohibited substance at its own discretion – a positive test resulting in disqualification.
It is important that all competitors exhibit good behaviour and sportsmanlike conduct, and treat fellow competitors, Event organisers, volunteers and contractors with courtesy and respect. Failure to do so may result in disqualification at any time before, during or after the Event.
If a competitor withdraws from the Event they must advise the finish line officials of their withdrawal as soon as possible and prior to leaving the venue.
I acknowledge that there are risks involved with participation in this Event and fully realise the dangers of participating in an event such as this and fully assume the risks associated with such participation and my wellbeing during the Event.
I understand and agree that situations may arise during the Event, which may be beyond the immediate control of officials or organisers, and I must continually participate in a manner that does not endanger either myself or others.
I certify that I am physically fit, have sufficiently trained for participation in the Event and I have not been advised otherwise by a qualified medical person.
The Event organisers reserve the right to alter rules, regulations, Event course and venues at any time provided athletes are advised prior to the Event, or if such a change is in the interest of competitor safety.
The Event Organisers reserve the right to implement the contingency plan in the interests of competitor safety but will not be held liable for any loss as a result of such a decision. In the event such a decision is made, if the conditions are still deemed to be unsafe, the Event organisers have sole discretion, and may cancel the Event without obligation to refund entry fees.
Neither the organisers, the sponsors nor other parties associated with the Event shall have any responsibility, financial or otherwise, for any risk incident that might arise, whether or not by negligence, from any direct or indirect loss, injury or death that might be sustained by me or any other party directly or indirectly associated with me, from my intended or actual participation in the Event or its related activities. I do therefore hereby on behalf of my heirs, executors, administrators and assignees release and forever discharge the organisers, sponsors of, landowners and any and all persons involved in the conduct of the event from any and all liability whatsoever or claims of damages or actions whatsoever (including negligence) in any manner arising out of my participation in the Event.
I authorise my name, voice, picture and information on this entry form to be used without payment to me in any broadcast, telecast, promotion, advertising, or any other way pursuant to the Privacy Act 1993.
I consent to organisers or suppliers filming me with an aerial quadcopter above or next to me while taking part in the Event.
I consent to receiving medical treatment which may be advisable in the event of illness or injuries suffered during the Event.
I have if relevant to this Event, made my team members aware of these conditions and have authority to sign on their behalf.
I understand that I have rights under the Privacy Act 1993 to access and correct any information held about me.