Rage Against Riverhead 8, 12 or 24hr Relay or Solo
Solo or relay teams of 2, 4 or 6 people completing as many 5km trail laps as possible (non-stop) in either 8, 12 or 24 hours.
One runner at a time on the course which goes through the tent city so you transition right outside your team's tent!
Summary of the Relay
Starts at 9am on Saturday 25 November

Solo people or teams of 2, 4 or 6 people complete as many laps as they can in the time limit

Only one person from each team is running on the course at any time

Each team will be allocated a tent site on the course at the event base. Teams set up this site as they please and the runners tag right outside their tent site.  BYO Tent.

Teams decide who runs how many and which laps – totally up to them

The event is aimed at all fitness levels from families to running clubs to corporate teams. We encourage walking teams too!

Teams are encouraged to dress up in a team costume!
LOCATION
The event is in Riverhead Forest, with the base at the big red shed just inside the Riverhead Forest at the corner of Barlow and Ararimu Valley Roads [GOOGLE MAP LINK HERE]. Please park as directed.
TIMETABLE
If you're looking at this on a mobile device you might need to swipe left to see the details of the table
Tent Set up
Friday 24th November 5-9pm
 
Registration at the venue and tent set up
Saturday 25th November from 6:30am
Race Briefing
8:45am
Start of all events
9am
Finish

8hr Event 5pm

12hr Event 9pm

24hr Event 9am

Prizegiving

8hr Event 5:30pm

12hr Event 9:30pm

24hr Event 9:30am
ONCE FINISHED
Once you've finished your event you're welcome to stay at the venue and in your tent site, cheering on the other solo and/or relay runners. In fact, we encourage it!
THE COURSE
The course is a 5km lap in a commercial pine forest with a mix of smooth flowing single trail and wider dirt tracks. There is maybe 50m of gravel road.  Each lap has around 60m vertical gain.
Lap times start and finish under the start/finish gantry, not at the transition point in front of your tent.
Check out the course here https://www.strava.com/routes/3150989686359162124
TEAM MAKE UP
Teams can be made up of 2, 4 or 6 people aged 14 years or older, with the gender categories being men, women or mixed.
There must be at least two women in a mixed team with 6 people or 1 women in teams of 2 or 4 people.
Walking teams are in an open category so any gender combination is allowed.
Corporate teams should be mixed teams with at least two women and with all team members in full or part-time employment at the organisation.
Every team member must complete at least 2 laps each.
Run as many laps as possible in the time category teams have entered

Only one runner from the team on the course at a time

Runners can do as many laps in a row as they like before switching to another team member

Change runners on the course outside your tent (the timing chip is your team baton to swap)

No non-competitors on the course (including eliminated runners)

No personal aid/support during a lap (the one aid/support location is the event base)

No artificial aids (including poles!)

Slower runners – please allow faster runners to pass

The winning team has the most complete laps in the time category entered

In the event of top teams having the same number of complete laps, the time the last lap was completed will decide the winner

No Relay runners are to provide support or pacing to the Backyard Ultra runner – gear, food or liquids.  All that is allowed is a quick verbal encouragement as they pass you or you pass them.  Both your relay team and the Ultra runner will be disqualified if this rule is broken.

No cats, dogs or other domesticated animals allowed on the course with runners.
COMPULSORY GEAR
Because of the lap nature of the course there is no compulsory gear required.
SUPPORT CREW
Other team members act as the support crew for runners in the Riverhead Backyard ReLaps Relay.  For teams with younger people or minimal team members, you are allowed 1 support person on your tent site.
General supporters can cheer/encourage/kick up the arse at the finish line etc but can not join the runners in their tents. This is to prevent overcrowding on the course around the tents.
SPECTATORS
We welcome spectators to come and have a look and support all the runners, however this is at the event centre only.  No spectators are allowed out in the forest, as they may be deemed support for a runner and may result in that runners disqualification.
Please be aware of the limited resources we have had to bring on site, e.g. toilets and water which participants have helped pay for so, they should have priority.
No dogs are allowed in the forest or at the event centre please.
ON COURSE REFRESHMENTS
There will be no aid stations or any water provided out on the course – you're on your own, in this regards, when you're out on the lap…its only 5km!
There will be water available for participants at the event base.  We are cup free so please bring your own vessel for holding water.
TENT SITES
Each team will be allocated a 3m x 4m site within the event base. A section of the course will weave amongst the tent sites allowing teams to transition right outside their tent before continuing to the start/finish line. No vehicles will be allowed on the tent sites.  You bring your own tent.
Teams requiring neighbouring tent sites (2 or more teams entered such as corporate teams, running clubs or extended families) can request this by emailing the event organisers at  shaun@lacticturkey.co.nz
Team tent sites do not have power or water.
POWER & WATER
There is no mains power onsite – please plan accordingly with powerbanks etc. The event crew rely on generators to drive the lights, timing, computers etc so we cannot offer this to participants for fear of overloading the generators.
We will have a very limited supply of water. We recommend people bring enough water for themselves/their teams. We will have some available but it's easier if you all bring your own.
$20 – Trucker 5-panel Mesh Caps
We wear these caps ourselves and no matter if its a formal cap for wearing out and about or your running cap, these things look good and are quality.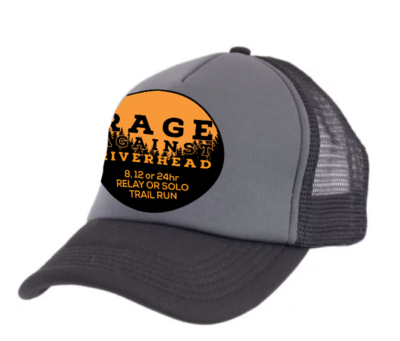 RULES, T&C's, PARTICIPANT WAIVER
The following are the rules of the event and you will sign your agreement to these during the entry process.
Event in the following waiver declaration is known as "Rage Against Riverhead".
I agree to comply with the rules, regulations and event instructions of the Event.
At all times competitors must obey the instructions of Race Officials and Police Officers and beware of vehicular transport. Any competitor who fails to obey the instructions of Race officials or the Police will be removed from the Event and disqualified. The race director has the discretion to disqualify competitors.
No competitor may use any banned substances with the intent to improve their performance, eliminate the sense of fatigue or for any other purpose. Any competitor serving a ban for banned substances in another sport is not permitted to enter.  The Event Organisers may test any athlete for the use of a prohibited substance at its own discretion – a positive test resulting in disqualification.
It is important that all competitors exhibit good behaviour and sportsmanlike conduct, and treat fellow competitors, Event organisers, volunteers and contractors with courtesy and respect. Failure to do so may result in disqualification at any time before, during or after the Event.
If a competitor withdraws from the Event they must advise the finish line officials of their withdrawal as soon as possible and prior to leaving the venue.
I acknowledge that there are risks involved with participation in this Event and fully realise the dangers of participating in an event such as this and fully assume the risks associated with such participation and my wellbeing during the Event.
I understand and agree that situations may arise during the Event, which may be beyond the immediate control of officials or organisers, and I must continually participate in a manner that does not endanger either myself or others.
I certify that I am physically fit, have sufficiently trained for participation in the Event and I have not been advised otherwise by a qualified medical person.
The Event organisers reserve the right to alter rules, regulations, Event course and venues at any time provided athletes are advised prior to the Event, or if such a change is in the interest of competitor safety.
The Event Organisers reserve the right to implement the contingency plan in the interests of competitor safety but will not be held liable for any loss as a result of such a decision. In the event such a decision is made, if the conditions are still deemed to be unsafe, the Event organisers have sole discretion, and may cancel the Event without obligation to refund entry fees.
Neither the organisers, the sponsors nor other parties associated with the Event shall have any responsibility, financial or otherwise, for any risk incident that might arise, whether or not by negligence, from any direct or indirect loss, injury or death that might be sustained by me or any other party directly or indirectly associated with me, from my intended or actual participation in the Event or its related activities. I do therefore hereby on behalf of my heirs, executors, administrators and assignees release and forever discharge the organisers, sponsors of, landowners and any and all persons involved in the conduct of the event from any and all liability whatsoever or claims of damages or actions whatsoever (including negligence) in any manner arising out of my participation in the Event.
I authorise my name, voice, picture and information on this entry form to be used without payment to me in any broadcast, telecast, promotion, advertising, or any other way pursuant to the Privacy Act 1993.
I consent to organisers or suppliers filming me with an aerial quadcopter above or next to me while taking part in the Event.
I consent to receiving medical treatment which may be advisable in the event of illness or injuries suffered during the Event.
I have if relevant to this Event, made my team members aware of these conditions and have authority to sign on their behalf.
I understand that I have rights under the Privacy Act 1993 to access and correct any information held about me.