YOUR FIRST STEP TO TEST YOUR LIMITS!
Please read the information below before entering.
Click on the Enter Now buttons to enter – you'll be taken to our entry system (EventPlus) and if you've used that system to enter any event before, you'll simply have to log in and select which events you want to enter.
Yes, you can enter a team of three or five, but it would fall into the 4 person category or 6 person category for results.   To do this select either 4 person team or 6 person team on the first part of the entry process and only fill in only three or five lots of details.  Then  use the promo code THREE or FIVE at the checkout and it will discount to zero the 4th person or 6th person so you only pay for 3 or 5 people.
THE FINE PRINT…
The Organisers reserve the right to combine event categories if there are less than ten participants in a category.

RULES & PARTICIPANT WAIVER – refer bottom of this page.  You will sign for your acceptance of these during the entry process.

ENTRIES CLOSE – Standard priced online entries close at midnight Thursday 25th April 2019.
REFUND POLICY – Entries cancelled greater than two weeks before an event will receive a 50% refund.  No refunds will be given for cancellations within two weeks of the event day. Refunds will be paid directly onto a credit card if that was the payment method or direct into a bank account as nominated by the participant.

All fees are expressed in NZ Dollars

LATE ENTRIES – Entries may be accepted after this time at the discretion of the race director subject to availability. Successful late entries will incur an additional fee of $20 per person. No entries will be considered after midday Wednesday 1st May 2019.
BACKYARD ULTRA
RUN
Individuals only
Complete one lap an hour restarting again on the hour
8 HOUR RELAY
WALK OR RUN
Teams of 2, 4 or 6 people
Complete as many laps as you can in 8 hours
$42 Juniors 14-17yrs and Senior Citizens over 65yrs
12 HOUR RELAY
WALK OR RUN
Teams of 2, 4 or 6 people
Complete as many laps as you can in 12 hours
$48 Juniors 14-17yrs and Senior Citizens over 65yrs
24 HOUR RELAY
WALK OR RUN
Teams of 2, 4 or 6 people
Complete as many laps as you can in 24 hours
$60 Juniors 14-17yrs and Senior Citizens over 65yrs
$20 – Trucker 5-panel Mesh Caps
We wear these caps ourselves and no matter if its a formal cap for wearing out and about or your running cap, these things look good and are quality.
$30 – Commemorative Event Tee (not a running tee but one you wear out and about)
Making use of the fancy event logo these shirts can be worn with pride!
WOMENS MAPLE TEE – 4001
Regular fit, Crew neck, Mid weight, 180 GSM, 28-singles
100% combed cotton (marles 15% polyester)
Neck ribbing, side seamed, shoulder to shoulder tape, double needle hems, preshrunk to minimise shrinkage
MENS STAPLE TEE – 5001
Regular fit, Crew neck, Mid weight, 180 GSM, 28-singles
100% combed cotton (marles 15% polyester)
Neck ribbing, side seamed, shoulder to shoulder tape, double needle hems, preshrunk to minimise shrinkage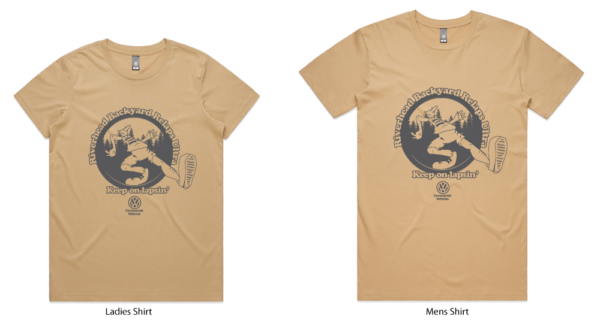 RULES, T&C's, PARTICIPANT WAIVER
The following are the rules of the event and you will sign your agreement to these during the entry process.
Event in the following waiver declaration is known as "Riverhead Backyard ReLaps Ultra and Relay".
I agree to comply with the rules, regulations and event instructions of the Event.
At all times competitors must obey the instructions of Race Officials and Police Officers and beware of vehicular transport. Any competitor who fails to obey the instructions of Race officials or the Police will be removed from the Event and disqualified. The race director has the discretion to disqualify competitors.
No competitor may use any banned substances with the intent to improve their performance, eliminate the sense of fatigue or for any other purpose. Any competitor serving a ban for banned substances in another sport is not permitted to enter.  The Event Organisers may test any athlete for the use of a prohibited substance at its own discretion – a positive test resulting in disqualification.
It is important that all competitors exhibit good behaviour and sportsmanlike conduct, and treat fellow competitors, Event organisers, volunteers and contractors with courtesy and respect. Failure to do so may result in disqualification at any time before, during or after the Event.
If a competitor withdraws from the Event they must advise the finish line officials of their withdrawal as soon as possible and prior to leaving the venue.
I acknowledge that there are risks involved with participation in this Event and fully realise the dangers of participating in an event such as this and fully assume the risks associated with such participation and my wellbeing during the Event.
I understand and agree that situations may arise during the Event, which may be beyond the immediate control of officials or organisers, and I must continually participate in a manner that does not endanger either myself or others.
I certify that I am physically fit, have sufficiently trained for participation in the Event and I have not been advised otherwise by a qualified medical person.
The Event organisers reserve the right to alter rules, regulations, Event course and venues at any time provided athletes are advised prior to the Event, or if such a change is in the interest of competitor safety.
The Event Organisers reserve the right to implement the contingency plan in the interests of competitor safety but will not be held liable for any loss as a result of such a decision. In the event such a decision is made, if the conditions are still deemed to be unsafe, the Event organisers have sole discretion, and may cancel the Event without obligation to refund entry fees.
Neither the organisers, the sponsors nor other parties associated with the Event shall have any responsibility, financial or otherwise, for any risk incident that might arise, whether or not by negligence, from any direct or indirect loss, injury or death that might be sustained by me or any other party directly or indirectly associated with me, from my intended or actual participation in the Event or its related activities. I do therefore hereby on behalf of my heirs, executors, administrators and assignees release and forever discharge the organisers, sponsors of, landowners and any and all persons involved in the conduct of the event from any and all liability whatsoever or claims of damages or actions whatsoever (including negligence) in any manner arising out of my participation in the Event.
I authorise my name, voice, picture and information on this entry form to be used without payment to me in any broadcast, telecast, promotion, advertising, or any other way pursuant to the Privacy Act 1993.
I consent to organisers or suppliers filming me with an aerial quadcopter above or next to me while taking part in the Event.
I consent to receiving medical treatment which may be advisable in the event of illness or injuries suffered during the Event.
I have if relevant to this Event, made my team members aware of these conditions and have authority to sign on their behalf.
I understand that I have rights under the Privacy Act 1993 to access and correct any information held about me.